Make the simple, smart switch to Alert Enterprise.
Unsatisfied with your current Physical Identity Access Management (PIAM) provider? Make the switch to a highly-configurable and cost-effective cloud-based solution, powered by the latest advancements in mobile and AI. With Alert Enterprise, you get a full-featured, seamless experience that begins right out of the box. Whether you start off small or go all in, you can add on as your needs evolve.
Seriously, no coding or customization required.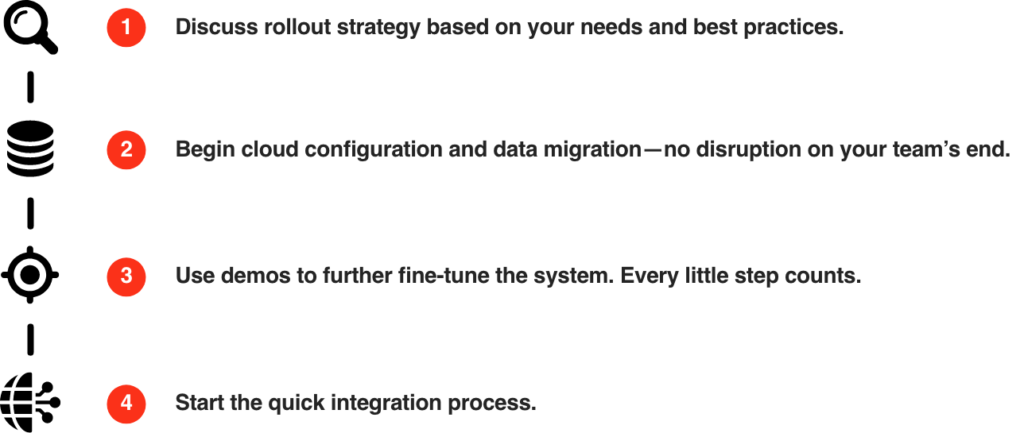 We don't just work outside the box. We think outside it, too.
Insider Threat Protection: New Guardian SOC Insights
The SOC Insights module is specifically designed to provide actionable data insights and playbooks to executives and SOC teams, enabling them to quickly respond to increasing security risks.
Turn their phone into an employee badge
Replace those bulky and costly employee badges with a digital alternative from Alert Enterprise, accessible in Apple Wallet and fully integrated with our Guardian PIAM software.
Visitor Management: New Mobile Check-In
Say goodbye to physical kiosks, sign-in sheets and unreliable processes: A smart, mobile-enabled visitor management solution has entered your building.
Stronger security is just a question away
Get instant answers to your most pressing physical access and security questions with our first-ever Guardian AI Chatbot, powered by ChatGPT.
Drag and drop
With over 200 out-of-the-box connectors and a configurable modular platform, you can skip the complexity of custom system design—no coding needed.
Save money
Say goodbye to never-ending customization fees. Plus, enjoy extra savings right from the start.
Get ongoing support
Like a good partner, we stick around to help you grow as your needs evolve. Our customer support team is where it's at.
Migrating from your legacy PIAM system to Guardian is simple. Get the inside scoop from our very own Yogesh Ailawadi, SVP of Product Management and Solution Engineering.
Fill out the below form for instant access to our exclusive webinar.
The proof is in the millions
Discover how AIG identified $70-$90 million in potential cost savings with our identity, access management and security solutions. Then find out how the Fortune 500 company completely transformed their physical security approach by moving away from decentralized system silos and inefficient manual processes.
Oh, and a quick introduction.
We're Alert Enterprise — the leading security convergence
software company offering cloud-based SaaS identity and
access management solutions for cyber-physical security.
Fun fact: We're also the only true convergence provider to unite existing physical security, IT and OT systems using over 200 out-of-the-box connectors for coordinated access management, automated compliance, and threat mitigation and response.
Make the first move by filling out the form below.
We'll help you move in the right direction shortly after.