Access rules the security landscape
Secure your spot today
Global Security Exchange (GSX)
September 12-14
Georgia World Congress Center
Alert Enterprise Booth #2625
Take a "zero-trust, always verify" approach to physical security with the only cloud-based platform for identity management, workplace access, visitor management, asset governance and more. We'll help you get every type of worker and visitor in the building securely, while opening bigger doors when it comes to business results—leveraging the systems you already have in place.
Meet us at booth #2625! Register for GSX below at no charge—this one's on us. Then scroll down to schedule your one-on-one meeting with our team.
Find out how to solve more business challenges—securely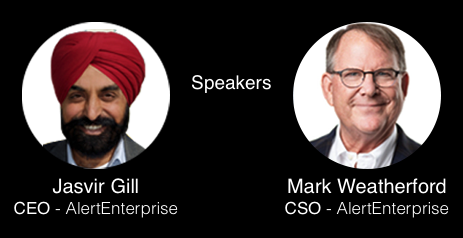 Why Digital Transformation and Security Are the Only Ways Forward
Wednesday, March 23
3:30 –4:30 PM
Join CSO Mark Weatherford and CEO Jasvir Gill as they discuss the impact converged security has on the fusion of today's cyber and physical worlds. Learn how connecting security across IT, HR and OT systems accelerates your digital transformation for the new era of work.
Take the lead on creating one consolidated view of every workplace identity and automate access by connecting your existing IT, OT and physical security systems.
Let's open doors to business growth
We can't wait to help you step into the next generation of physical and identity access management.
Book a meeting with us at GSX 2022!
Complete this form to schedule a meeting with our team.