Policy-Based
Access Control
Dynamic Cloud Authorization Service For Physical Security
Opening your company's doors has never been so complicated - or important.
Your employees need fast, simple access to the doors and areas where they work. But you also have to keep those same physical spaces secure and in compliance. Ensuring only the right people get the correct level of access
The way we work is changing
Companies are moving to a hybrid work format in which employees spend certain days in the office and others working remotely. As schedules become more sporadic, how will you manage physical workplace access? Legacy physical access control system limitations, coupled with overwhelming manual requirements for managing access, lead many security teams to simply assign 24/7 access for each cardholder.
Policy-based access control system PBAC is a dynamic authorization approach to physical access that uses identity attributes roles and policies to determine access rights to buildings and physical spaces in real-time at the door.
Deliver trusted and compliant access at scale across the enterprise in real time
Provides fully configurable and dynamic Authorization Policies
Leverage the technology you already have, with 100s of out-of-the-box connectors to leading access control and mobile authentication technologies
With a Standard Card reader the AlertEnterprise PBAC solution dynamically authorizes access at the control panel.

Or authorization can happen directly at the reader if they're IP or Biometric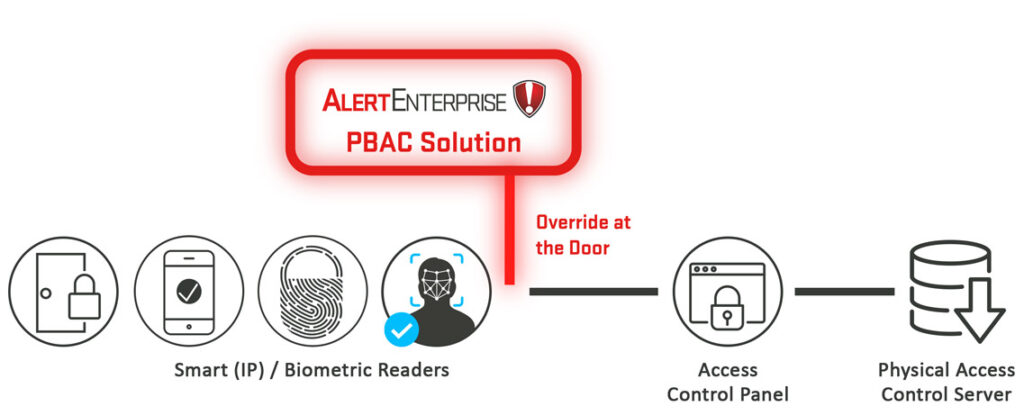 Easy to use and no coding needed, your security teams can apply policy-based access in 5 steps: