Visitor Identity Management
WELCOME TO A SMARTER VISITOR EXPERIENCE
Enterprise Visitor Identity Management (VIM) centralizes all aspects of the visitor identity lifecycle through a single interface. VIM automates visitor registration functions and applies a complete lifecycle process enterprise-wide. Fully integrated with AlertEnterprise Physical Identity and Access Management (PIAM) Guardian software, VIM actively enforces all company policies related to security, compliance and customer experience.

Enterprise Guardian's flexible and powerful integration framework engine powers VIM, providing a direct connection with any 3rd-party system for background checks, training, ticket management, Wi-Fi service, and provisioning to any access control system. All forms, attributes, approval processes, notifications, and badge templates can be created and updated from the user-friendly screen. No development effort or code changes are needed.

Visitor Identity Management software is pre-integrated with Physical Access Control Systems (PACS), extending the same level of protection for visitors and contractors as internal staff, enforcing request approval before granting access through the enterprise-class workflow engine.
KIOSK & Web Self Enrollment/ scheduler
Validations with Vetting Services
RULES & POLICY FOR AUTOMATED ACCESS APPROVALs
Standardization Across Facilities
DNA and VIP List Integration
EXCEPTIONAL EXPERIENCE.
SIMPLIFIED ADMINISTRATION.
The browser-based interface enables convenient pre-visit enrollment and approval.
Employee, contractor, vendor and visitor identities are automatically tracked against rules-based policies ensuring that only approved individuals are given access to the most critical infrastructure assets and areas within the enterprise.
EMPOWER LOBBY AMBASSADORS AND ADMINISTRATORS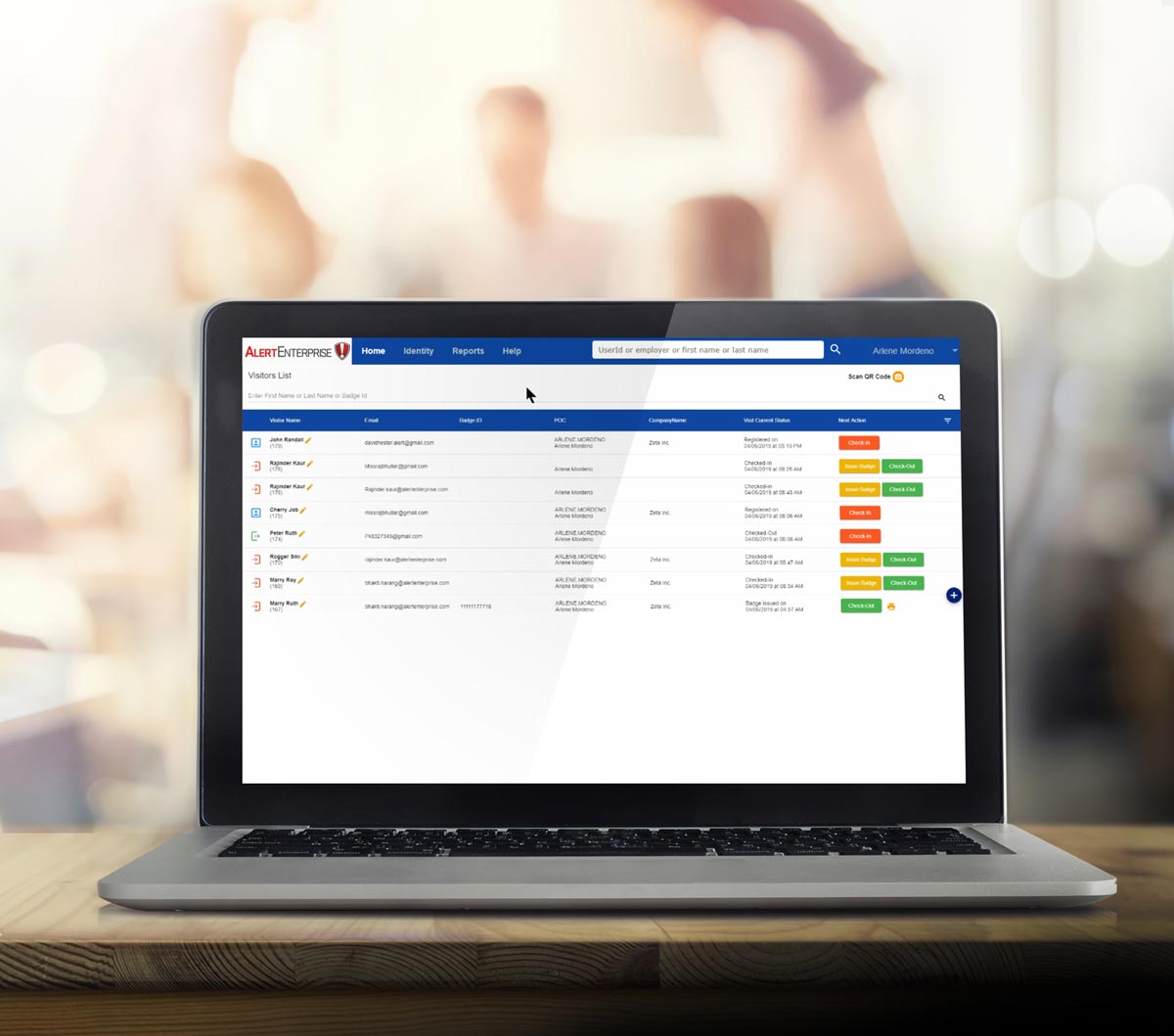 Automatic logging, timestamping and approval flows can be accessed later for audit and compliance purposes.
AUDIT, RISK AND COMPLIANCE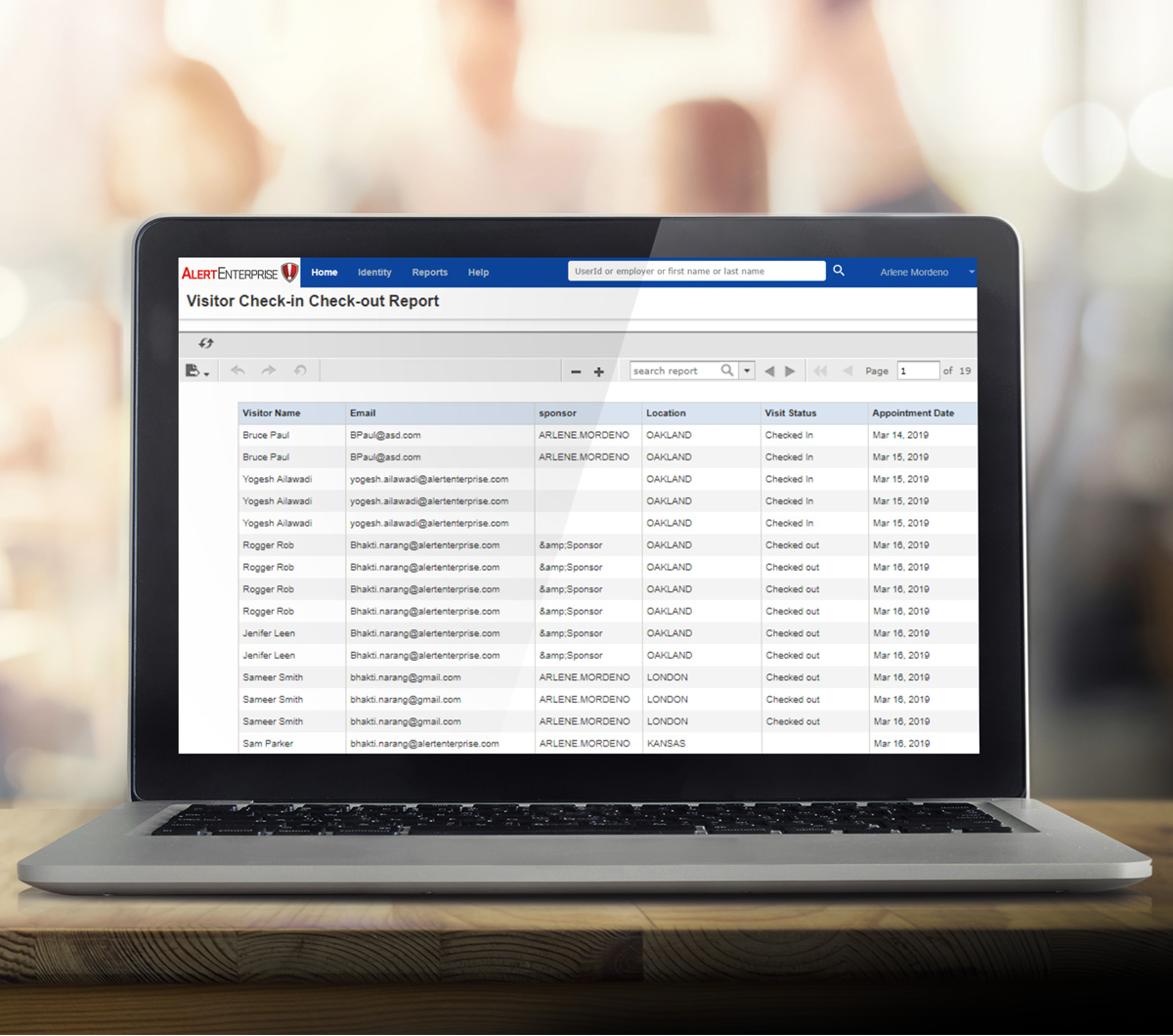 POWERFUL FIRST IMPRESSION AT CHECK-IN
AlertEnterprise Visitor Management Kiosk software with facial recognition technology delivers frictionless security to organizations that are looking to improve security and enhance customer experience with a powerful first impression at check-in. The new facial recognition feature provides fast and accurate on-site identity verification and makes it easy for an organization to add facial image analysis to the check-in process for employees, visitors, contractors, and guests arriving on-site.
FAST, INTUITIVE REGISTRATION AND CHECK-IN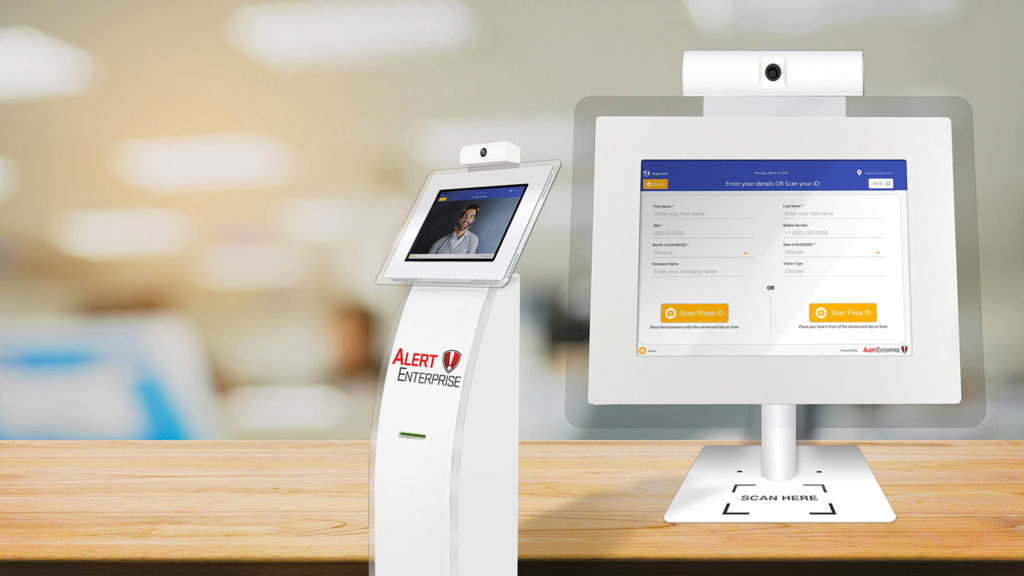 COVID-19 HEALTH & SAFETY ACCESS GOVERANCE MODULE
MODIFYING VISITOR EXPERIENCE
With an outbreak, modification to the visitor experience is required. It is the first point of contact and along with lobby and security staff is part of the front lines for safety.

Enterprises can configure their Visitor Identity Management (VIM) system to provide clear communication of current policies during the outbreak, reinforcing WHO best practices.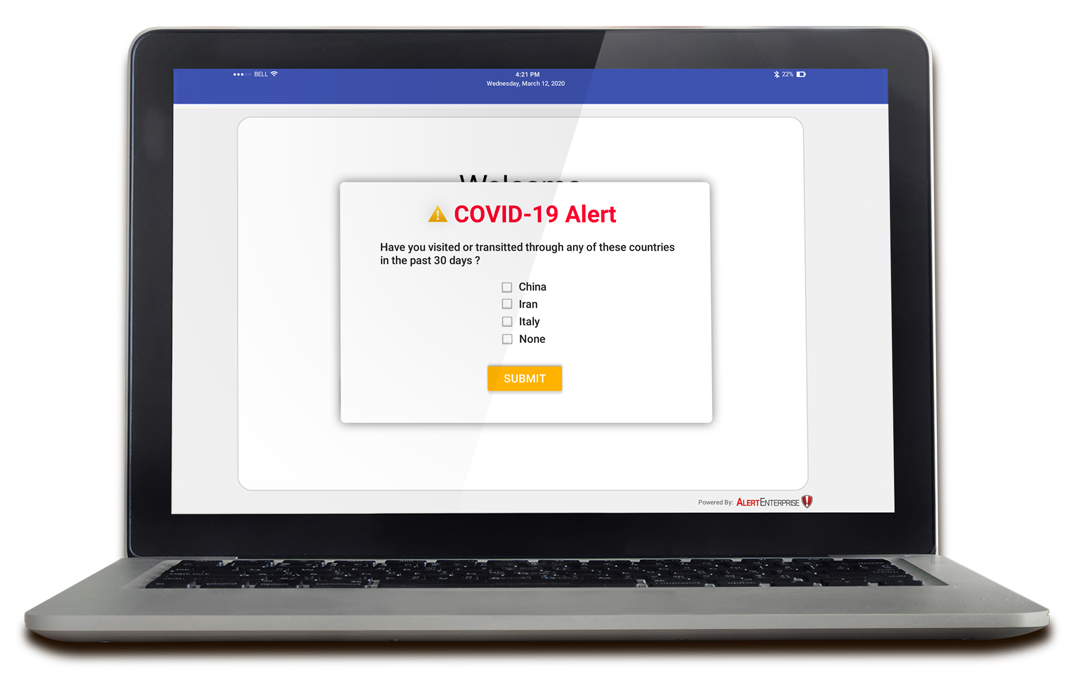 EXTEND SECURITY BEYOND THE LOBBY
Pre-registration and self-registration check-ins further reduce risk.

They allow the end user to manage visitors and the workforce access remotely with pre-registration prior to arriving on premises.

VIM software provides mobile and web-based self-registration where visitors are vetted before arriving on location.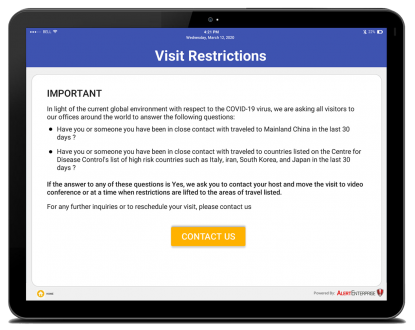 INDUSTRY SPECIFIC CONTENT PACKS CORPORATE OFFICES DATA CENTERS HEALTHCARE
(HIPPA Requirements) AIRPORTS
(TSA Requirements) ENERGY & UTILITIES
(NERC CIP Requirements)