Future-proofing security for today's utility
Secure your spot today
SAP for Utilities, Presented by ASUG
September 18-20
Manchester Grand Hyatt San Diego
Alert Enterprise Booth #201
Opening your company's doors has never been so complicated—or important.
What we mean is, your employees and contractors need fast, simple access to the doors, floors, folders and databases where they work—but you also have to keep those same physical and digital spaces secure against constant cyber-physical threats. What if you could bring together your IT, OT and Physical Security systems for one coordinated approach to workplace access, automating policy enforcement while also strengthening security and productivity? That's exactly what we can help you do with a cyber-physical identity access management platform that integrates with your existing systems.
Meet us at booth #201! Register for SAP4U below, then scroll down to schedule your one-on-one meeting with our team.
Find out how to solve more business challenges—securely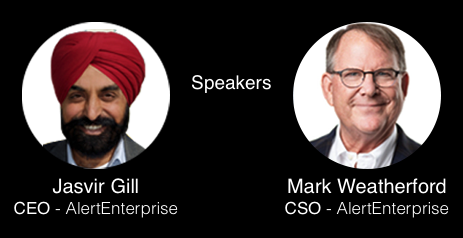 Powering business through secure and compliant visitor management
Date: August 19, 2022
Time: 1:10PM –1:55PM
In this session, learn how Southern California Edison (SCE) moved security to the cloud and digitally transformed workplace access for both employees and visitors alike. Plus, find out how converged cyber-physical identity and security is the key to making your facility safer for every occupant, automating compliance and gaining significant operational efficiencies.
Take the lead on creating one consolidated view of every workplace identity and automate access by connecting your existing IT, OT and physical security systems.
Let's open doors to business growth
We can't wait to help you step into the next generation of physical and identity access management.
Book a Meeting at SAP for Utilities!
Complete this form to schedule a meeting with our team.