Solution
Security convergence for utilities & critical infrastructures
The New Math for Information Technology, Operational Technology and Physical Security for Secure Workforce and Workplace Access Management
Utilities are extra-critical infrastructures with complex security requirements. New sophisticated threats that live in both cyber and physical domains stand poised and ready to attack—with potential, ongoing risk to IT, Operational Technology (OT), and Physical Security. Addressing these escalating threats requires a new formula and approach where 1 + 1 + 1 equals 0. With the objective of zero compliance violations and a new level of security, a converged solution is the best way to close the security gaps and deliver automated policy and compliance enforcement.

AlertEnterprise delivers enterprise-wide security, governance, compliance, policy enforcement, automation and workforce management to the Utility and Critical Infrastructure sectors in a single platform that makes physical and logical access and identity management a seamless part of business operations.
AlertEnterprise Solutions
Real-world incidents demand a world-class response
AlertEnterprise provides leading Identity and Access Governance along with Security Incident Management and Response software for Utilities and Critical Infrastructure.

Enterprise identity and access governance
Delivering a Business Layer across Systems and Applications – Empower your business managers with a complete view of risks so they can make access and security-related decisions without excessive de n IT. Our software integrates across enterprise applications, legacy systems, physical facilities and critical assets. Identity Governance, Physical-Logical Convergence – Take the guesswork out of approving access to applications based on specific roles within the organization. Manage physical access to facilities, substations, control rooms and power generation stations – from one place. Automate Contractor / Employee Onboarding Off boarding – Real-time integration with leading HR systems such as SAP SuccessFactors, allows you to conduct upfront risk analysis for the entire population, streamlining and automating secure physical access provisioning.
AlertEnterprise software extends beyond IT to include security and risk management for power generation, transmission, distribution and the Smart Grid, delivering operational security across the entire Utility and other Critical Infrastructure Enterprise.
IT-OT Convergence: Managing Access to Operational Systems – Monitor all your Operational systems (Energy Management Systems for Transmission Operations, Protective Relays in Substations or Generation Management) while providing granular OT access control permissions. With OT convergence, our software allows only those with a legitimate need to access critical assets.
Operational Compliance Reporting – Extend the capabilities of compliance applications like SAP GRC
to include monitoring of NERC and NERC CIP controls, as well as State or Local Public Utility Commission Guidelines.
Security operations and threat prevention
Remote Substation, Transmission Control Room Monitoring: Meet SCADA-related security and safety challenges head-on. AlertEnterprise software enables your security personnel to correlate staff entry into sensitive locations with work-order issuance as well as prior access patterns.
SOC Enhancement, Continuous Monitoring, Incident Management and Informed Response: Combine the monitoring of badge access activity via video surveillance with IT, HR and cybersecurity related information in a single unified application. AlertEnterprise software can leverage in-memory fast computing capabilities of SAP® HANA™ to mine information through millions of events, alerts and actions for split-second informed response.
Smart Grid Security: Detect end-point cyber attacks as well as blended physical-logical threats against gateways, head-ends and control points, to ensure reliability and provide protection from malicious threat actors.
Nuclear Critical Digital Asset (CDA) Monitoring and Reporting: Proactively enforce provisions of 10 CFR 73.54 and 73.55 by automating the monitoring and assessments for Cyber Digital Assets (CDAs).
Unified Threat Management: Physical Threats, Insider Threats, Cyber Threats and Advanced Persistent Threats: Gain a unified view of threats across the enterprise and deploy rules-based solutions to prevent malicious acts, sabotage, terrorism and cyber threats.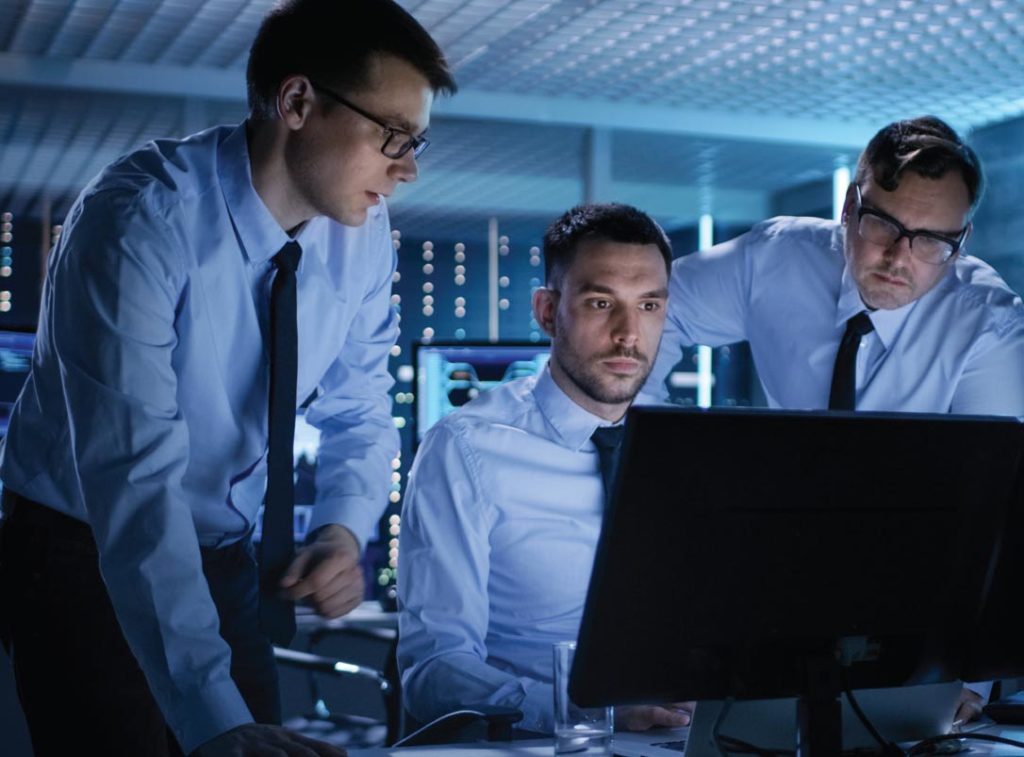 With the objective of zero compliance violations and a new level of security, a converged solution is the best way to close the security gaps and deliver automated policy and compliance enforcement.
Enable security, risk and compliance management professionals within your organization to not only detect and identify violations, but to remediate them in real-time. Our software enables your security staff to remove physical access to systems and facilities with a single click and invoke mitigating controls like additional video surveillance or proximity tracking.
You May Also Be Interested In
HOW A MAJOR UTILITY COMPANY ACHIEVED ZERO COMPLIANCE VIOLATIONS
AlertEnterprise Inc. has successfully worked with companies across the utility and critical infrastructure spectrum to address and resolve all areas of NERC-CIP compliance. The following is a current, real-world example of how technology helped one of our high-profile customers achieve the ultimate goal: continuous compliance and zero violations.