Make the simple, smart switch to Alert Enterprise.
Unsatisfied with your current Physical Identity Access Management (PIAM) provider? Make the switch to a highly-configurable and cost-effective cloud-based solution. With Alert Enterprise, you get a full-featured, seamless experience that begins right out of the box. Whether you start off small or go all in, you can add on as your needs evolve.
Seriously, no coding or customization required.
We'll do the hard part for you.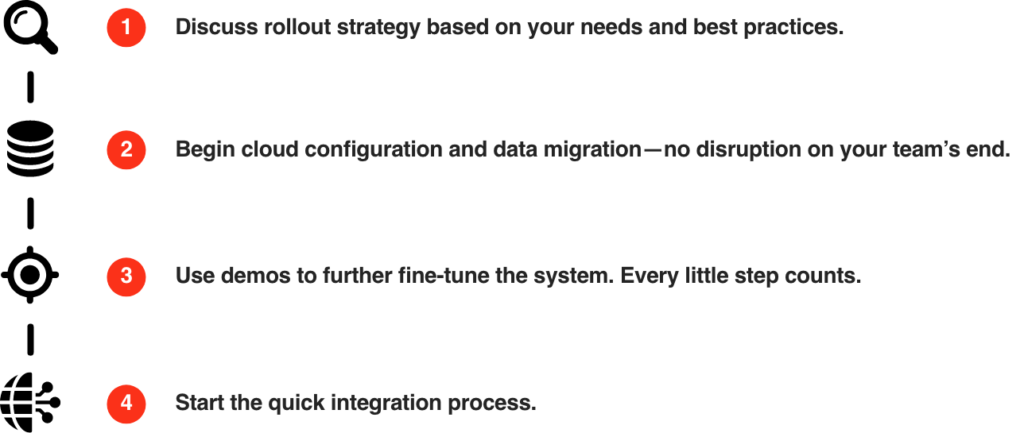 Drag and drop
With over 200 out-of-the-box connectors and a configurable modular platform, you can skip the complexity of custom system design—no coding needed.
Save money
Say goodbye to never-ending customization fees. Plus, enjoy extra savings right from the start.
Get ongoing support
Like a good partner, we stick around to help you grow as your needs evolve. Our customer support team is where it's at.
Migrating from your legacy PIAM system to Guardian is simple. Get the inside scoop from our very own Yogesh Ailawadi, SVP of Product Management and Solution Engineering.
Fill out the below form to gain exclusive access and watch now
The proof is in the millions
Discover how a Fortune 500 company identified $70-$90 million in potential cost savings with our identity, access management and security solutions. Then find out how AIG completely transformed their physical security approach (hint, hint: they started by moving away from decentralized system silos and inefficient manual processes).
Oh, and a quick introduction.
We're Alert Enterprise — the leading security convergence
software company offering cloud-based SaaS identity and
access management solutions for cyber-physical security.
Fun fact: We're also the only true convergence provider to unite existing physical security, IT and OT systems using over 200 out-of-the-box connectors for coordinated access management, automated compliance, and threat mitigation and response.
Thanks for contacting us! We will get in touch with you shortly.