A few months ago, Gartner—the world's leading information technology research and advisory company—came out with the top seven cybersecurity trends to look out for in 2022. But as the end of the year approaches, we can confidently say that these trends have played out in major ways. And they're not going anywhere anytime soon.
The thing is, hybrid work and digital business processes in the cloud have introduced new risks. At the same time, sophisticated ransomware, attacks on the digital supply chain and deeply embedded vulnerabilities have exposed some major security gaps. 
The good news is companies that understand these seven trends will be better positioned to address new risks and elevate their role—but it requires reframing the security practice, rethinking technology and preparing to respond to new threats.
We'll help you do just that.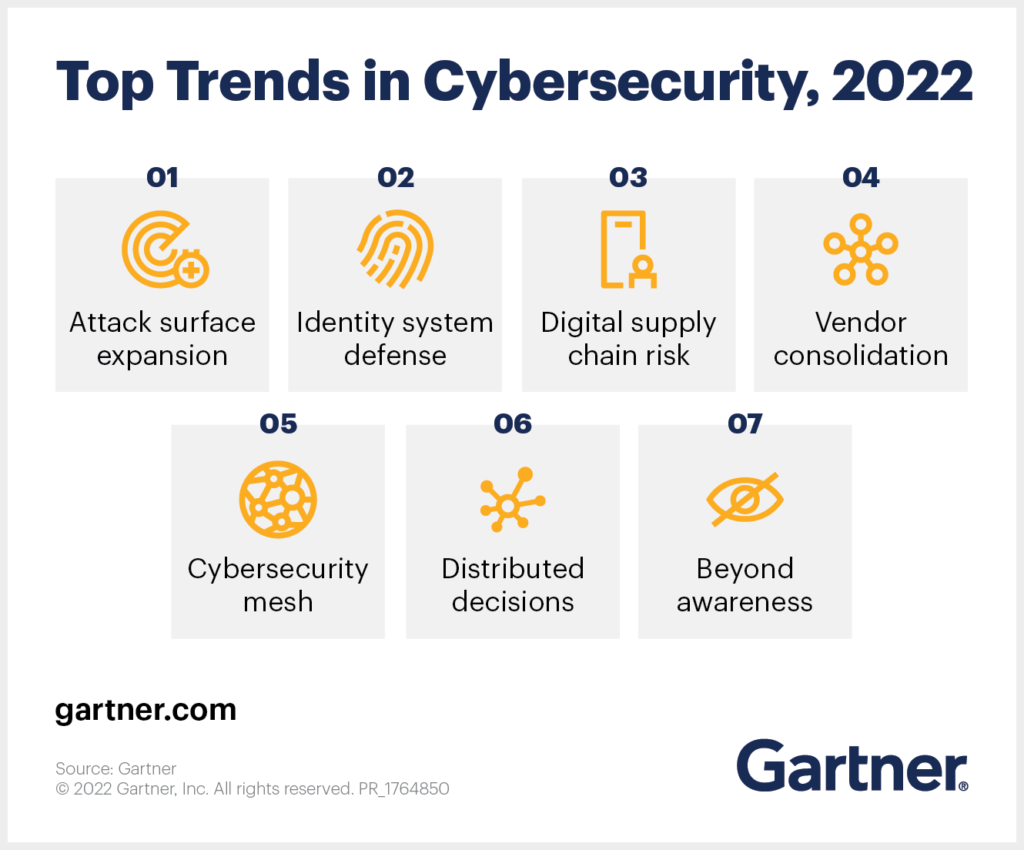 Image credit: Gartner's Top Trends in Cybersecurity 2022 
Three trends that equal 100% convergence
Trend No. 1: Attack surface expansion
According to Gartner, 60% of knowledge workers are remote, and at least 18% won't return to the office. When you add our current use of public cloud, highly connected supply chains and use of cyber-physical systems to this changing workforce model, you get a perfect recipe for organizational threat vulnerability. To manage a wider set of risks, security leaders should look beyond traditional approaches to security monitoring, detection and response.
In other words, we need to be looking past just IT. The hybrid work model means people are accessing both your buildings and your digital files, so converging your physical security, IT, OT and HR systems is key to securing your whole enterprise and managing things more effectively.
Trend No. 2: Identity system defense
Heads up: Identity systems are coming under sustained attack. According to Gartner, misuse of credentials is now a primary method that attackers use to access systems.
But identity isn't just digital and shouldn't be thought of as such. It needs to be converged into the physical realm. To put it in perspective, you can manage the complete identity lifecycle from onboarding to off-boarding for your employees and contractors, and tie it directly to access governance for IT, physical and OT workspaces. Automated workflows allow physical security and IT department managers to quickly approve or deny access requests while actively enforcing company policies and meeting compliance regulations. 
Trend No. 7: Beyond awareness 
Trust no one, validate everyone. That's the basis of trend number 7, which talks about human error and how it continues to be a major factor in most data breaches. Gartner discusses how traditional approaches to security awareness training are ineffective, and how progressive organizations are investing in holistic behavior and culture change programs designed to provoke more secure ways of working. 
The thing is, insider risk typically isn't malicious. We're all humans, and humans make errors. But these errors can cost companies millions of dollars and lead to stolen proprietary information. Insider threat, on the other hand, is considered malicious, which is why regular risk assessments are vital. Automated cyber-physical identity and access management technology can provide scheduled access reviews to help detect high-risk user profiles.
Improving visibility into user activity and taking a more preventive approach are the key ways to manage both insider risk and insider threat. Considered a best practice by security leaders around the world, policy-based access control (PBAC) reinvents your current Physical Access Control System to authorize access to buildings and physical spaces, only when people need them – a true zero trust model. 
2023, we're looking at you….
As we head into the last quarter of the year, we can't help but wonder how much the security landscape will change in just the next year alone. But working towards cyber-physical convergence is always a safe path to stay on. And you don't have to go at it alone; our team is right there to guide you every step of the way. Contact us to see how we can help you improve your security posture and equip your toolbox with the latest tips and tricks.