Airport Guardian offers San Antonio International Airport a takeoff to greater efficiencies and enhanced security
The international airport continues to exceed regulatory requirements for security
Several file cabinets, once obstructing the view from the back of the Badge & ID Office at San Antonio International Airport (SAT), are now history. Thanks to Alert Enterprise's Airport Guardian platform, the cabinets and paper are gone, and SAT's Badge & ID Office is fully digitized – giving the security team the best view in the house to watch planes takeoff and land.
But the office views are far from the only improvements. After implementing Airport Guardian, SAT is seeing a digital transformation that delivers greater efficiencies within the facility, optimizing its resources, reducing labor costs – and enabling better overall security for airport passengers, and stakeholders.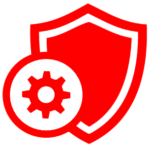 Taking the existing Security Program to new heights
SAT has always been innovative and proactive when it comes to security. In 2019, SAT fully developed and implemented a Security Management System (SeMS). With SeMS, SAT is always looking ahead at new technology, collaborating with stakeholders, and enhancing communication – far beyond regulatory requirements.
In its pursuit of continuous improvement, SAT selected Alert Enterprise's Airport Guardian platform on its journey to next-gen Identity Management and Credentialing, grounding its legacy badge applications.
With Airport Guardian, San Antonio International Airport has met each of its goals for identity access management. Using one data entry point, the software created efficiencies within the badge application processes, reducing both the number of required steps and overall processing times – translating to an improved overall customer service experience. Other processes – such as fingerprinting services, appointments, key management, violations, training and visitor management – were also streamlined under one platform for enhanced security and compliance with TSA.
These improvements have taken security efficiency to a new altitude.
"We've seen a huge difference in the way we process customers," Cole said.  "I think the biggest impact is reduced processing times for our customers. When you have customers that are applying for a badge and they're waiting to start their job, it can take weeks with the traditional badge application and manual processes. Now, with the switch to Airport Guardian, it takes just a few days. That speaks volumes to what the product has done for our airport."
Leveraging Alert Enterprise's Airport Identity Management System, SAT is raising the standards in airport security. And other industry leaders will be watching.
Cole thinks they'll like what they see.
 "We work in an environment made up of different customers, airlines and federal agencies where some have to be background checked and others don't," he said. "When you are going through processes manually, your staff can miss opportunities: so, it forces us to create several checklists to double-check that we captured every detail, which creates repetitive processes and added time.
"The IDMS removes all the checklists. It's automation. So, when you look at automation, you don't have to worry about, 'did I check this box?'
"I would tell others to really look at how digital transformation can impact their processes for the better."
Next-gen identity access management without a systems overhaul?
Don't get left behind.